GET WHATSAPP FOR YOUR WEBSITE!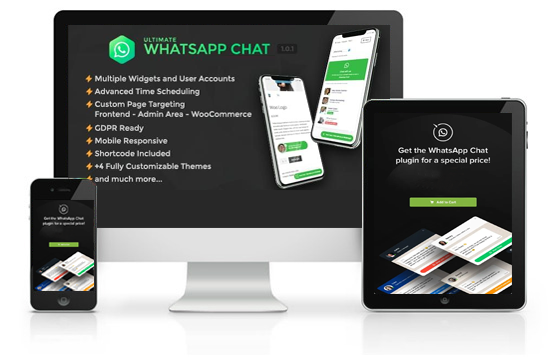 Easy to use WhatsApp Chat widget for your website

Be quick and simple to contact! Users can easily and immediately get in touch with you and receive answers
Improve customer service quality! Responding and resolving issues faster, leave more customers satisfied
Raise sales via consulting! Provide useful info about your offers and convince more people to purchase


Contact us and get yours today!
✓ FREE Installation Service
✓ Unlimited Websites
✓ 10 000 views per month
✓ Premium Support

With WhatsApp Chat, your website visitors will have the fastest and easiest means of connection. They will be able to ask their questions or leave requests immediately and without leaving your website. On a click, a messenger bubble expands into a chat window where users can seamlessly start their chat with you.